Wines
While known for our Zinfandel, Cabernet Sauvignon and Merlot, Caparone Winery is one of the first American producers of the three noble Italian varieties. Each of our wines receive two years of barrel aging and are never fined, filtered or blended. Our wines show balance, complexity and restraint. They are always of moderate alcohol and will improve in the bottle for many years.
We have a classical approach to winemaking. In other words we favor the natural over the artificial, and, usually, tradition over technology. We believe that the finest wines are created by nature - they are a reflection of the vine and the place where it grows. Truly great wines are an expression of nature, not of the gadgets and chemicals that are used so often in modern winemaking. So we take great pains to interfere as little as possible.

We firmly believe that there is no substitute for patience in the making of fine red wines. We don't take any shortcuts to bring our wines to market sooner - we do not fine, filter, centrifuge, micro-oxygenate, or do anything else to speed the winemaking process.

Vinification
The techniques we use are mostly a collection of traditional European winemaking practices; they include hand racking, long skin-contact, submerged cap fermentations, several years of barrel aging, and a year of bottle aging. All of our wines are unfined and unfiltered. We do take advantage of modern technology where appropriate: temperature controlled, closed stainless steel fermenters, for example. While the way we make wines is slow, labor intensive and different from most California producers, we feel it's worth the result.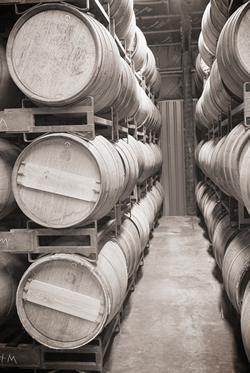 Vineyards
Vineyard selection of course, is the key to successful winemaking - vineyard choice is the single most important winemaking decision. Our estate vineyard, which was carefully chosen by Dave Caparone in 1978, is located next to the winery along San Marcos Creek, 7 miles northwest of Paso Robles. Our choice was based on 6 years of careful research of the many microclimates of the Paso Robles region, and was initially selected as a good site for Zinfandel. Our experience over the last 27 years confirms this and also shows that remarkably, all three of the great Italian red varietals planted there- Sangiovese, Algianico and Nebbiolo -- consistently produce quality fruit. The area is one of the warmest in the Paso Robles region, with a daily average day/evening temperature difference of over 50 degrees. The climate is also extremely dry, which causes vineyard pests, mold and other problems to be virtually nonexistent. The soil is mixed alluvial, with both sedimentary and igneous rock, and has good moisture holding capacity. The vines are widely spaced, and simply trellised, and irrigation is kept to a minimum.